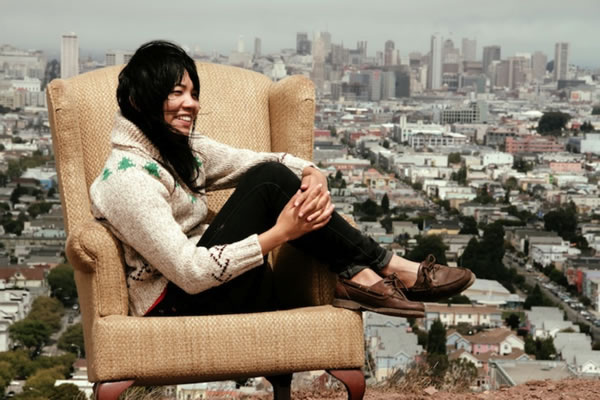 Thao Nguyen
First impression after giving We The Common a listen? Songs that have a conscience can be fun and catchy. The fourth musical outing courtesy of San Francisco based Thao Nguyen and her band The Get Down Stay Down is more focused than her previous projects Bee Stings or Know Better Learn Faster. The songs reflect her artistic and personal maturity. The upbeat title track We The Common is dedicated to Valerie Borden, one of the prisoners that she met through California Coalition for Women Prisoners (CCWP). The electric-guitar heavy track titled City is inspired by the energy around the Occupy movements that have taken place in recent years. The songs have become an opportunity to voice awareness on what matters. Nguyen's all grown up now and her writing has grown up with her.
For now, you can set your prejudices of angry protest music aside. Thao Nguyen has mastered the craft of writing socially aware songs that you can hum to. "As a listener, I am more inclined towards songs that are less heavy", Nguyen reasons, reflecting in songs that manage to be mass- accessible without compromising musicianship. You know the kind of song that doesn't make you feel guilty when the chorus is stuck in your head all day.
Part of her personal growth also means finding that balance midst the frenzy of tour life. Any rituals? "Meditation, yoga, jogging in parks", lists Nguyen, "and avoiding modern processed bread". She does admit it is a challenge to find that discipline, but it has become increasingly important. Nguyen and her band are currently on tour (with an upcoming date in Toronto) through December opening for stellar acts such as The Head and The Heart and The Lumineers. With planned stops across North America all the way to Scandinavia in freezing December, one can only wonder how is California native prepping for that? "Long underwear", Nquyen muses.
Being able to align the song material with her activism roots, perhaps, in a way, Thao Nguyen has found her calling. "You could say that I am clearer", declares Nguyen, "on what I would like my career to be". That clarity further fuels the passion while performing on stage and connecting with the audience. You can see Nguyen and her band The Get Down Stay Down rock the Danforth Music Hall next Thursday, Oct 31.
Quickplay w/ Thao Nguyen
Given your love for 90s Hip Hop, who would you want to be a guest emcee on one of your tracks? Q-Trip from A Tribe Called Quest
We know you love New Kids on the Block, any favourite? Jonathan Knight
If you could have a superpower, what would you like? Something to do with social justice that gets rid of people that are assholes, so Figurative Asshole Eliminators (FAE)
What is something about you that no one knows? I had a pet chicken growing up; called her Jennifer. She passed away when I was around 5 or 6.