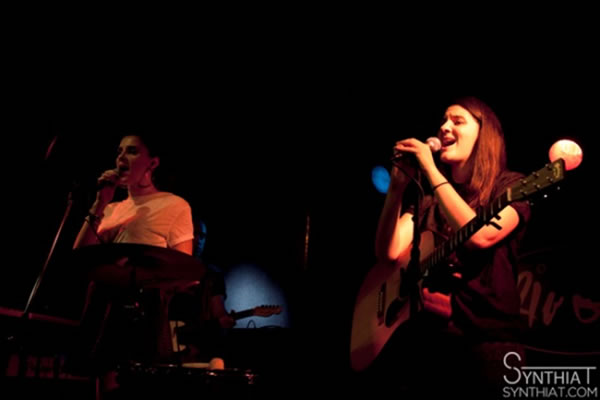 Heathers
Guinness. U2. The Script. Glen Hansard & The Frames.
Dublin has given the world all the things that is good with life: great beer & great music; you can add the acoustic pop sounds of Heathers to that list as well.
The duo of fraternal twins, Ellie and Louise MacNamara, that make up Heathers, inspired by the 80's movie of the same name, are no strangers to Toronto. The Rivoli hosted them earlier this summer as well. Touring behind their sophomore release Kingdom, that saw Canadian release in April 2013, the twosome backed by a band played to a receptive audience.
Heathers started out as an acoustic duo. With Kingdom, the duo have not only matured in age but also as songwriters and expanded their sound adding synth, electric guitar and drums. Often when acts get louder, vocals and harmonies end up taking a backseat. Those in attendance last night will agree that this was (thankfully) not the case. From the upbeat and catchy Forget Me Knots, to pulsing bass beat in Lions, Tigers, Bears to synth-heavy Waiter, new and familiar fans were constantly reminded the real stars of the show: the voices of the MacNamara twins. Nothing felt out of place, including the humorous banter of coordinating outfits and hairdos before shows. Both were wearing tops with same design different colour, and it wasn't pre-planned. TWIN TELEPATHY!
With songs already featured in US shows like 90210 and Mob Wives, and have garnered a notable fan base including prominent names like JJ Abrams and Steven Spielberg, Heathers are poised for a breakthrough in North America. If you haven't heard about them yet, odds are you will soon. Don't tell me I didn't tell you!