Hello again, darling readers! On Sunday July 28th I had the chance to experience something that truly only happens in Toronto; Pedestrian Sunday in Kensington Market. Having just moved from Alberta, it's one of the things that excites me the most about Toronto is the music scene. Not because Alberta doesn't have one, it does and I was a pretty big part of it, rather Alberta's scene isn't as momentous. In Toronto, on any given day, there's a local show going on in the bars or in the street, or directly in the street in the case of Kensington. It is the coolest thing about living here, for sure.
First, I got lost because I'm new here and the Subway was not my friend on this particular Sunday. Following the music to find where you're supposed to be is about the most awesome thing for a nerd like me. I found myself on the edge of some sort of street fair type thing (so much bigger and more badass than any Farmer's Market I'd ever seen…), staring down a beautiful mural painted on the back of a building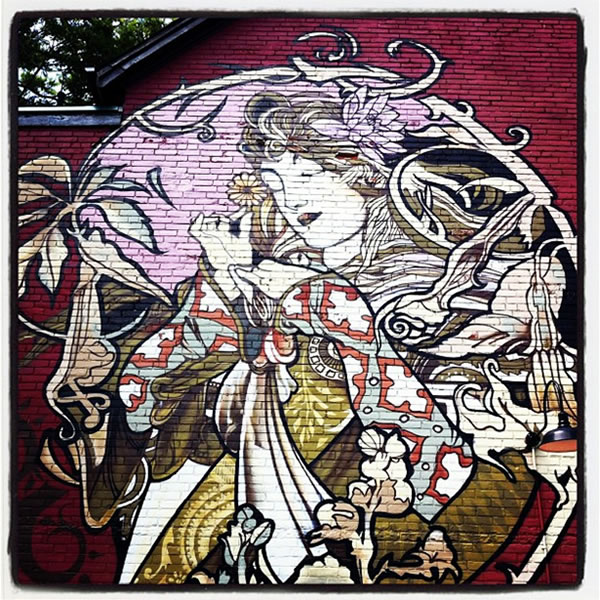 Kensington Market Mural, image from urbanadventures.com


In front of this wonderful piece of street art was the brilliant Jessica Speziale, who was fronting a rocking band like she was the second coming of Janis Joplin in an adorable outfit and spiked boots.

Jessica Speziale Live


All the music and sunshine made us hungry, so we went for yummy gelato at The Grindhouse and I was beckoned outside The St. Royals, stepping into the limelight with Ania Soul on vocals. The set started with an explosive cover of The Jackson 5's "I Want You Back" that was the best version I've heard since the original. It was good enough to pull me away from gelato, which in any other situation would have been impossible. Other stand outs were a James Brown cover. And then the lead guitarist, Mike came up to sing and I was blown away yet again. Prince cover? An amazing Prince cover? That doesn't happen often either. Now I'm on cloud nine. They continued through new and old soul favorites, switching again for vocalist Joanna, who shone on Janelle Monae's Tightrope.
After this we made the short walk from Augusta & College down to Graffiti's bar for a three set performance by Trinidadian rock group Biopic. I once had the pleasure of hearing Sheldon's vocals briefly while in studio and was instantly impressed, but I was excited to hear him with a live band and in full. One track is never enough. Island flavors, a wonderfully talented band featuring Dick Black on keys and backing vocals, as well as Joshua Jlatte Lopez who held it down with the crowd inside while Sheldon was working the window that was taken out of the front of the bar so the band members could jump through to interact with the audience outside. What's better? The fact that it's free and three sets long? Wow, something awesome just got better. It's really hard to explain how amazing these guys are, so I'll just let you watch them below. And that's just a cover. If you get the chance to see Biopic, or any form of Sheldon Holder live, do it. You're welcome.

Biopic Live


On top of that, just walking through, there were buskers, street dancers, vendors, and an amazing hula woman who kept the beat in the midst of hooping. Kensington is probably my favorite part of Toronto. A true place for a hippie at heart who just wants to let her hippie come out to play.