Toronto's Absolutely Free release and perform their new single "UFO"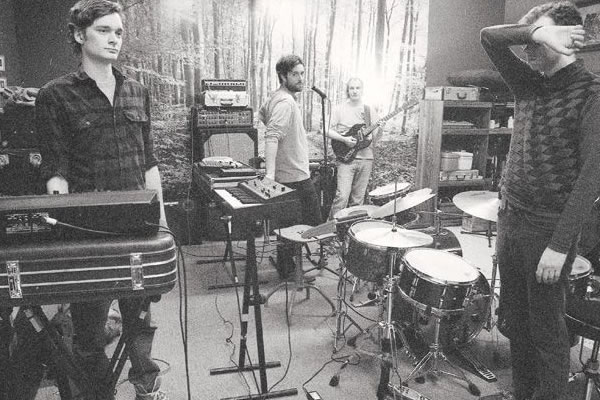 Absolutely Free


I first heard Absolutely Free when they opened for an Akron/Family concert at Lee's Palace on April 19, 2013. Of course, they were better than the actual band I had paid money to see. Absolutely Free are from Toronto, and were originally called MM/DD/YYYY. The band members are Mike Claxton, Jordan Holmes, Matt King and Mosh Rozenberg. Their music can be classified as an experimental, aesthetic approach to krautrock/psychedelic rock. That definition about sums it up.
On January 12, 2013, they launched their debut 12-inch single, "UFO/Glass Tassle (One Big Silence)." I have listened to "UFO" on repeat ever since I first heard it, and I honestly still cannot make up my mind about it. There seems to exist a fine line between genius and superficiality; the song encompasses both (or none) of these qualities. The merge of multiple different styles, such as the opening operatic lurch and the slow-ish screamo that follows, is an interesting alternative device. However, does this multiplicity of style take away from the music? It is possible to observe that a song loses any originality it might possess when it attempts to reproduce a various mix of styles. From one perspective, Absolutely Free are sticking a bunch of ideas together in order to create chaotic noise, instead of creating a new (and therefore original) sound. However, I believe that it is this conglomeration of "copied" styles that creates one unique music. This is a concept upon which relies independent, contemporary culture. In this sense, Absolutely Free's "UFO" is a monument to this view of modernity.
Something that I admire about their music is the rhythm, particularly the drumming style. For most of their songs, two of the band members are playing the drums, including the singer. I have always admired a musician who can keep a smooth, unfaltering tune while thrashing at a drum set.
It is unusual for me to discover a band at a live venue before having previously listened to their music, online or on the radio. It is a great experience to encounter music in such a present, raw manner. After falling in love with "UFO" as a live performance, I must say that the recorded, "second-hand" edition of the song on my iPod seems a little trite and cheap. So, for those who do not have the chance to see Absolutely Free in action on stage are definitely missing out on the freshness of their performance. At one point during the concert, they yelled the chorus with such passion into the microphone.
Although Lee's Palace (where I saw them open for Akron/Family) was almost completely empty right before Absolutely Free walked on stage, the venue rapidly filled up with eager Torontonians as soon as they began to play. It is my belief that the concert was in fact crowded, not for the disappointing Akron/Family performance, but in anticipation for Absolutely Free's opening act. After the band had completed their set, they quickly merged with the crowd of spectators, who in turn greeted them with shouts of familiar applause. They seem to have a large following, of which I am now a part. Absolutely Free have upcoming shows this summer across Ontario and Quebec. These days, while at the beginning of their musical careers, they very rarely have a rest from performances.