Cold Specks is now the solo title of Canadian singer-songwriter Al Spx. She released a wonderful debut album entitled "I Predict a Graceful Expulsion" last year, which was nominated for the 2012 Polaris Music Prize. She has also recently won for Best Female Artist of the Year at the SiriusXM Indie Music Awards. Her music is a combination of soul and folk, and her lyrics are eerily dark and personal, and they contain a trace of a stifled "Deep South" heritage.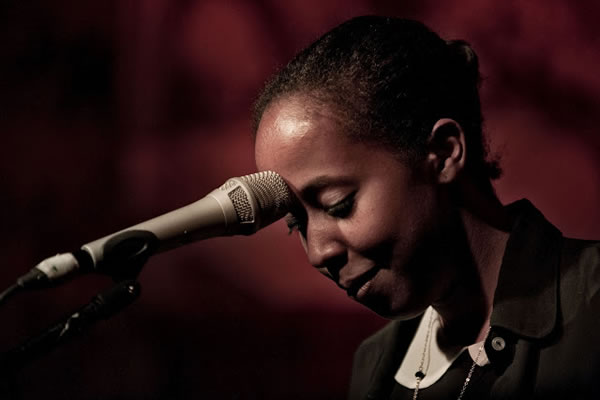 Al Spx


Born in Etobicoke, Ontario, Cold Specks now lives in London, England. There is no evident "Deep South" heritage linked to these two locations, but she is able to establish a connection between seemingly "average" events and the distant past that shapes all experiences. She has cited the Lomax Field Recordings, James Carr, Bill Callahan and Tom Waits as her major musical influences.
I saw Cold Specks last December as the opening act for a Conor Oberst concert at Massey Hall. She filled the hall with an element of doom; her voice seemed to speak of an ancient legacy while the words actually recounted a not-so-distant childhood. For most of her set, she stood in the middle of the stage with an electric guitar; she spoke to the audience very little, and she barely moved her feet. However, near the end of her performance, she pushed the microphone aside and stepped towards the extreme pinnacle of the stage. From this position, she yelled out her lyrics to the audience. Everyone immediately fell completely silent; nobody sneezed or shuffled in their seat.
This produced a grand effect; her voice reached my ears in spite of the stretched distance between us. So, whenever I listen to her album, I am reminded of this moment when the entire room strained to hear every note emitted from between her lips. In my opinion, she was the evident choice to open Conor Oberst's concert. I am a huge fan of his music, and her rough and gloomy material perfectly matched his bitter, unrestrained voice. They should join talents and record a duet album. Although I love both their individual work, such an album would supersede anything they have previously released.
My favorite Cold Specks song is probably "Winter Solstice," and I especially love the passage: "Leave ashes for borrowed instruments and borrowed hearts / We will pass them on to every saint and dead lover / I have my god so give me my ghosts." These lyrics provoke the need to unearth all forgotten or buried memories in order to achieve a type of metaphorical solstice: a heightened state of being. I know this can seem like a cheesy, overstated observation; she is technically stating how to "find inner peace." However, her language and her scratchy tone turn such an obvious idea into a beautiful new discovery. She is pushing her heritage, her "sons and daughters", into the action of reclaiming their identities. Her wording is perfect, and it somewhat reminds me of a song by The Decemberists (whom I adore) called "Sons and Daughters" (evidently).