Myspace has come a long way since the days of profiles full of glitter text, animated cursors, and, of course, everyone's top friend Tom.
On September 24th, Justin Timberlake, a co-owner of the website, tweeted a link to a video teaser of the "new" Myspace, set to be released "very soon", according to the site. Watching the video, it's virtually impossible to ignore the major changes that Myspace is undergoing in order to fit in again in the world of social media. The new sleek design will remind users of the likes of other popular websites, such as Facebook and Tumblr, and even LastFM and 8tracks.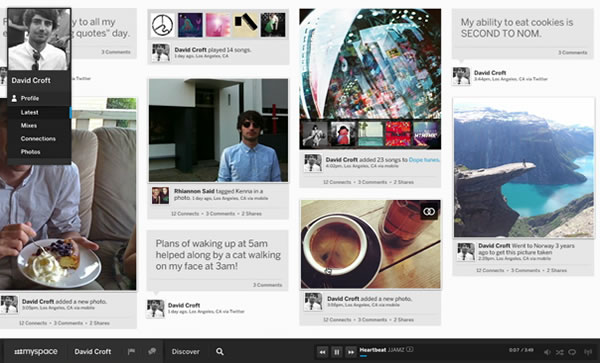 Included on the long list of new features, Myspace developers are updating the music hosting portion of the site, allowing users to share a profile song, as well as custom mixes that can be linked to photo albums. Think of it this way; when photos of you passed out on the floor at that party surface on the internet, they'll be accompanied by the very songs that were playing as you got wild the night before. Pretty cool, huh?
Profiles are also getting some big-time modifications. The site will be using a side-scroll theme, and allowing users to have a Facebook-esque cover photo, along with the usual profile picture. Posts and status updates will be arranged in a collage pattern, making even the most cluttered pages feel structured and organized, adding to the newfound ease of use.
The new Myspace from Myspace on Vimeo.
Myspace.com peaked long before Twitter and Facebook made it to the point of internet domination, forcing the site off throne and sending it to the Social Media graveyard with the like of sites such as Xanga and Friendster. Struggling to even remember those sites? Point proven.
However, Myspace seems to have embraced the changes of the fast paced digital environment, not only updating the whole website, giving it a completely new look and feel, but also adding many new tools and features, making the site unique again.
Should the world of social media be looking out for a new contender in the face of the new Myspace? Watch out Facebook, I definitely think so.