On Friday, October 19th of 2012 I took in the Fallen Heirs featuring Left Turn City show at the Tattoo Rock Parlour on Queen St West in Toronto. It was a lot of fun, and the bands were both really good. The venue had a nice light show going through both bands sets which worked with the music to set an excellent rock show atmosphere. Not only that but the sound guy at this show was flawless – I've attended a few concerts in the past where the sound guy had no idea what he was doing and what would have been otherwise a wonderful show instead sounded awful because the mixing was off, the levels were wrong, etc. So, major props to the venue for being on the ball with that one.
Left Turn City went first, reminding me briefly of Econoline Crush's 2008 album Ignite. There was a great band dynamic, and the sound, which while being reminiscent of other bands in the genre was impressively non-generic. I really enjoyed this band overall. Eric, Jay, Jerry and Jeff put on a good show.
I was particularly impressed by the stage presence and vocal abilities of the singer of LTC – in fact, the singers of both bands had excellent techniques and made effective use of crowd interaction. The bassist and guitarist of LTC both seemed to have excellent playing techniques and were able to move and sort of dance about with the music while playing, without sacrificing the clean sound of their technique. The drummer, while not absolutely stellar, was of above average talent, managing clean, fast-paced rock drumming without sounding to generic. I was over-all impressed with this first band and their 30-40 minute song set. The songs themselves had an enjoyable sound and enjoyable if not slightly predictable lyrics (I say this having never heard many of the songs played during their set).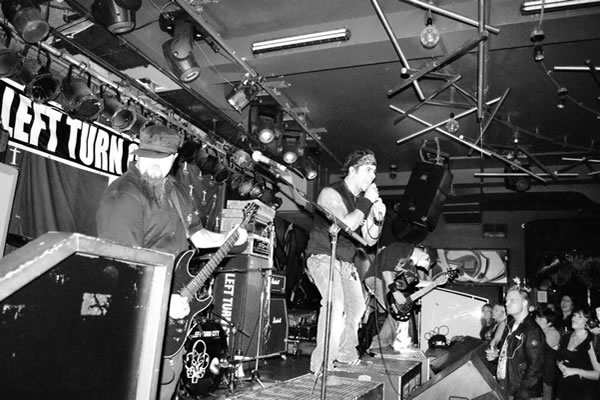 Left Turn City at The Tattoo Rock Parlour (The Rock Parlour 2012 - 23/10/2012)
There was one point where the singer picked up the microphone stand and used it as a driving prop, which I found particularly amusing. There was another point where they did a cover of a Depeche Mode song, which was a nice little surprise for me being something of a fan. The songs they played that were theirs managed to remain decently varied, sounding similar to each other but not identical, mixing hard and melodic sounds seamlessly. I was particularly fond of Medicine Man, which was actually the last song they played in their set, and which the singer was particularly psyched to do.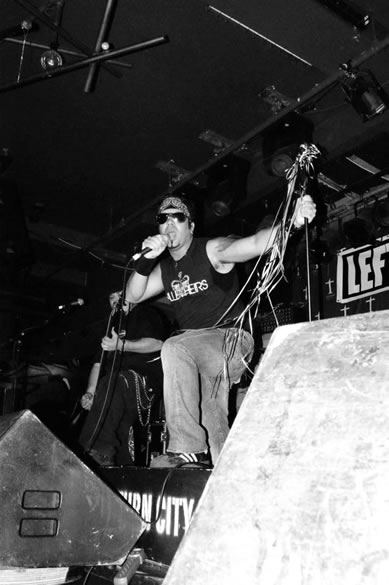 Singer of Left Turn City
Once Fallen Heirs graced the stage my initial reaction was to their look – they have that stereotypical rocker look; t-shirts, tank tops, jeans, headbands and the like. However, their look is somewhat deceiving in that regard, as they were anything but stereotypical or generic. At first their sound made me think of Alice in Chains, which I was actually a pleasant surprised as I to find as one of their influences later when I checked their Facebook page. Their sound progressed through their set and I grew more and more impressed with them. I got a bit of a Stone Temple Pilots vibe as well.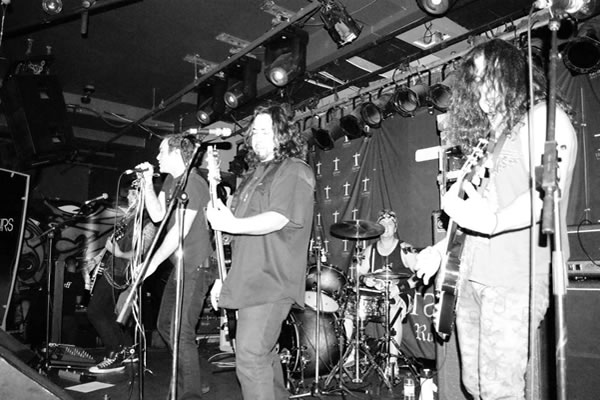 Fallen Heirs
As I said above the singer, Tim Shaw's technique was excellent. He was capable of a wide range of vocalizations from soft singing to yelling – it was in the yelling I found myself most impressed, he seemed to be able to do the yelled or screamed vocals in a manner that wasn't going to destroy his vocal chords within a few years like some singers would. Not only that but his voice was actually, in my personal opinion, beautiful.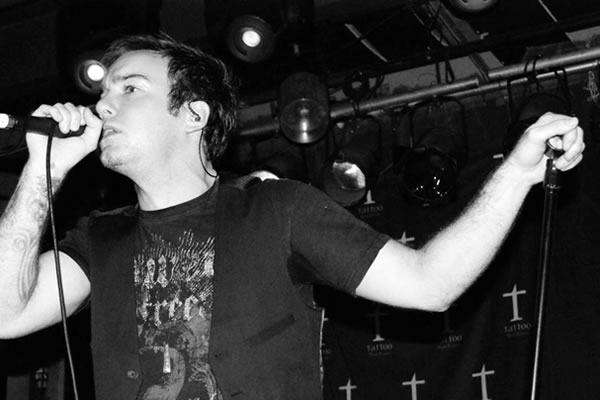 Tim Shaw at Tattoo Rock Parlour
In both bands sets the songs permeated a clear presence of deep emotion and inner reflection, and while LTC seemed to show no mercy, Fallen Heirs managed to mix the heavy emotion with softer music and lyrical content, melding an overall more intricate sound while still remaining true to the rock genre. Tim knows his target demographic, he knows how to get them worked up and eating out of the palm of his hand, and in particular he knows that he himself does belong among that demographic.
When it comes down to it my only complaint is that the show wasn't long enough. I mean, I was pretty exhausted by the end of it, don't get me wrong, but I definitely wish the show was longer. I would have loved to have heard more songs by both bands, considering they were both new to me. I particularly would have loved to have heard more Fallen Heirs, I definitely enjoyed them more, if only by a little bit.
For more photos, check our gallery on Facebook.