Joe Zambri of INtune Magazine was present at a show on Saturday, October 20th to witness a live act by a newly formed, Scarborough, Alternative and Blues act known as Highspeech. This was his second time seeing the band and with a little bit more knowledge of the material there to learn about the speech of Highspeech.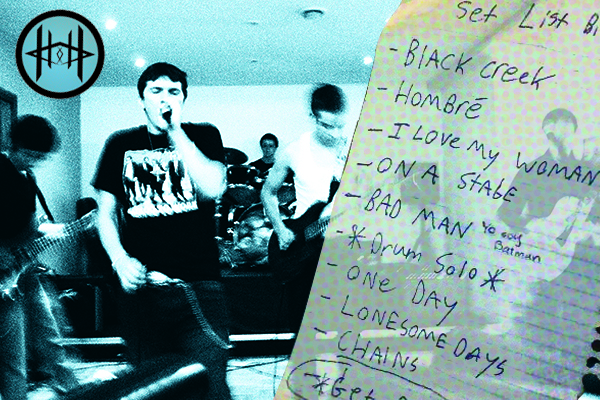 Highspeech performing at TJ's with written set list and logo | photo by Arianna Martino, Designed by Joseph Zambri
Among many of the bands that have been brought to my attention in the GTA; Highspeech proves to be a most surprising contender. The band had only played less than a handful of shows before the event and my expectations weren't too high in the instrumental and technical side of things. Needless to say I had a few surprises in store for me.
Already being very good friends with the singer of the band I was already excited to see the band and give them my support. The band was playing at TJ's Bar and Grill over on Warden and Lawrence in Scarborough, Ontario. This is a regular venue for the band and every time they play there they always blow the roof off the place (metaphorically speaking of course.)
Arriving at the venue I was expecting the place to have plenty of available seats where I can comfortably grab a drink and eat some food while enjoying the wonderful music. To my surprise it was packed and there wasn't even a single available table. This surprised me because the last time I went to see the band at their previous show the place was half full. They had already doubled their crowd after one show. I was in a loss for words. When I finally arrived at my table, I was overjoyed to be sitting right next to the band. I didn't come alone of course. My girlfriend came along and so did a couple of friends who happened to have a pretty nice camera. This proved to be a great oppurtunity to get some coverage of the show. The singer of the band (Danny Roberts) was thrilled to hear this of course because for a new band exposure and articles are the greatest things you can get. Danny rushed to tell his band members the news. The members consisted of Steven Kodje on bass, Richard Brown on guitar/vocals, Will Scinocca on drums and Joey Burak on guitar. I was astounded to find out that it would be Joey's last show and that he would be replaced with a new guitarist named Mrudul Kamble.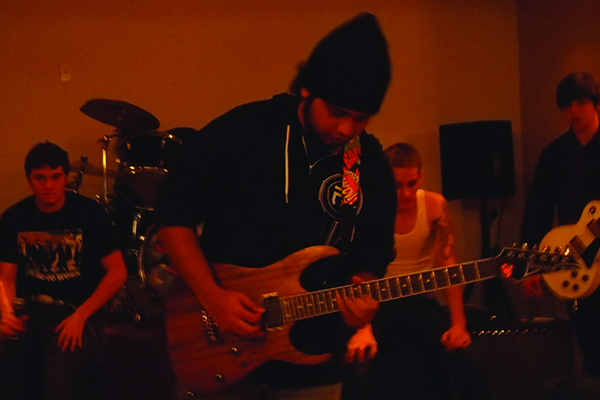 Highspeech guitarist Mrudul Kamble shreds away on his very first show with the band.
Joey was to play the entire duration of the show as his final performance with the exception of a guitar solo in the middle of the set which was to introduce the fans and spectators to Mrudul's guitar work. As soon as he started playing I couldn't believe how good he was. I was rather amused to see Danny and Steven playing rock, paper, scissors in the background while the solo was happening. I don't understand what purpose it had, all I knew was that it was hilarious.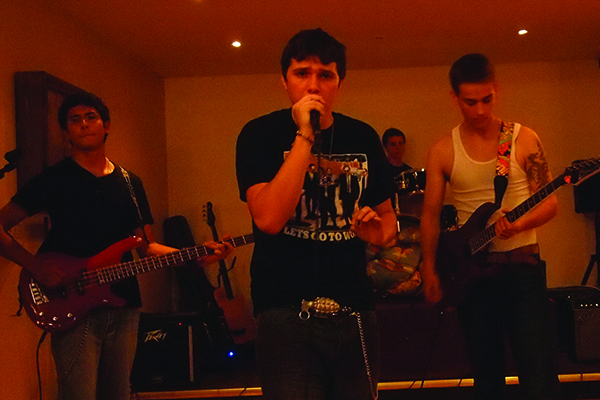 Highspeech at TJ's" (from left to right Steven Kodje, Danny Roberts, Will Scinnoca and Joey Burak)
The band played a wide variety of songs 3 of which were just recorded on their new demo. These being Chains of Our People, Lonesome Days and One Day. For me Chains Our People is by far their greatest song. The song is so well built up lyrically and musically. It has a pure effect of adrenaline mixed in with blues, punk, alternative and heavy metal. Lonesome Days is a great song too it has a feeling of a classic Blues and Stoner Rock. It is a great rock song that is very easy on the ears. One Day on the other hand is a complete musical shift. It has a more pop-rock/emo oriented sound as opposed to Highspeech's usual blues/hard rock Sound. The song just seems that is just meant to be a radio single song as opposed to a well written rock song that showcases what the band represents. One Day is not for everyone. However it is really solid in the instrumental category. It lacks the emphasis lyrically with a chorus only consisting only of the words "One Day I'll Be Famous".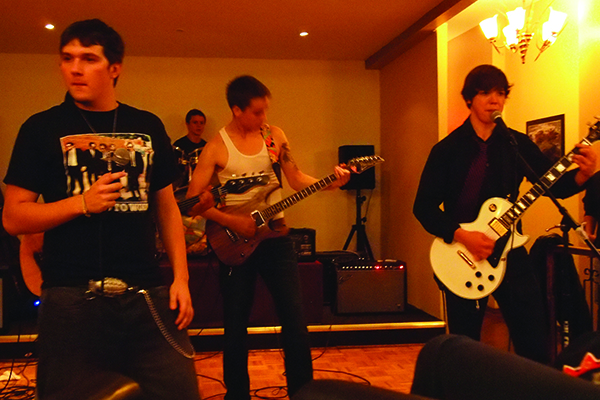 Highspeech performing "One Day" (from left to right Danny Roberts, Will Scinnoca, Joey Burak and Richard Brown)
The intro song Black Creek was good to wake up the audience and get everyone into it. A good starter to build up the show but the real show took off as soon as the band started to play Hombré. The song was both engaging and energetic and was enough to rock the house. What follows was the song "I Love My Woman, But She Don't Love Me". This song brought back memories for me because I remember it when it was only lyrics on paper back when me and Danny used to write music together. It was something that was part of old memories and made the show something even more than a performance for me. I wasn't a fan of the song "On a Stage" however the song "The Bad Man" struck me as the most innovative Highspeech song. It was a slower paced blues anthem. The feeling that you get from listening to it helps to make u relax the only thing that could make it any better would be to play it immediately before Chains of Our People. The contrast would make the crowd jump out of their seats. The constant change of pace could make even more good things happen performance wise.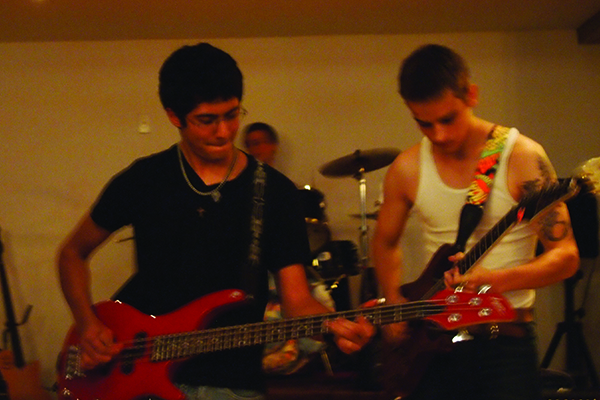 Steven and Joey of Highspeech starting off Chains of Our People
The time I was waiting for had finally arrived Steven played the opening bass passage to Chains of our People. I was so excited that when the song was over I was disappointed that the song didn't go on for even longer. When a band has you feeling that way then you know they have got to be good.
Highspeech appeared on The Original SoundTrack on INtune Radio on Novemeber 16th at 6:30p.m. Highspeech has a show at the Rockpile Sunday, December 2nd and one in January lined up at the Sound Academy. I wonder what else the band has in store for us.
You can follow them on Twitter and check out their Facebook page here.